I have been looking for fun ways to get ready for St. Patrick's Day, so I experimented the other night with rice krispie treats. They're so versatile that I knew they'd be the perfect "canvas." The result was delicious – green, lightly minty, and covered with a layer of chocolate.
Just be careful and hide these from any sneaky leprechauns.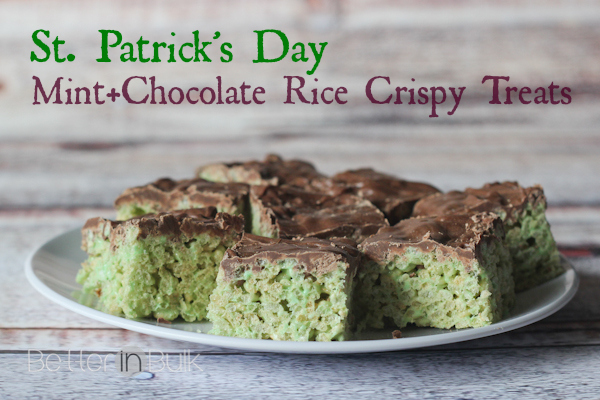 Mint Chocolate Rice Crispy Treats for St. Patrick's Day
St. Patrick's Day Mint Chocolate Rice Crispy Treats
Ingredients
3 Tbsp butter
32 regular marshmallows (or 3 cups mini marshmallows)
½ tsp peppermint extract
Green food coloring
5 cups crispy rice cereal
4 oz melting chocolate
Instructions
Melt butter in a large saucepan over medium heat.
Add marshmallows and melt, stirring frequently.
When the marshmallow/butter mixture is fully melted, remove the pan from the heat and add peppermint extract and green food coloring for desired color (I added a few drops).
Pour rice cereal into the pan and stir gently until completely covered.
Press rice crispy treats into a lightly buttered 9x13 baking dish and press firmly into pan.
Melt chocolate (I melted my chocolate in the microwave) and pour over rice crispy treats in pan. Let cool for at least 30 minutes and cut into bars.
Store rice crispy treats in a covered container.
My kids couldn't keep their hands off these treats.
Happy St. Patrick's Day (soon!).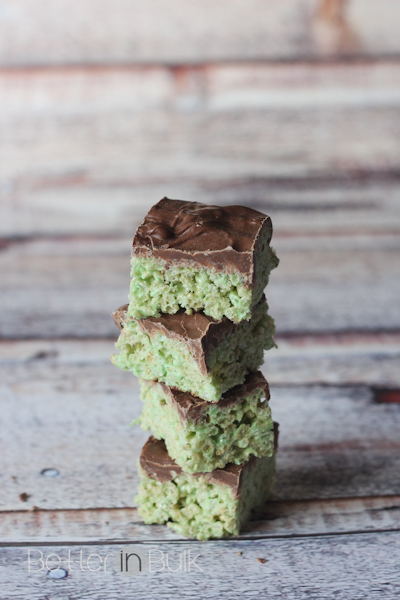 © 2013 – 2016, Food Fun Family. All rights reserved.