Yes, I made more rice krispie treats. Shoot me.
These rice krispie treats were so perfect that I may have to call them my favorite rice krispie treat variety ever. I've made others that were good – from simple to rich – but these were just perfection.
I don't know if they even need any more explanation than that.
Sea Salt Caramel Rice Krispie Treats
Salted Caramel Rice Krispie Treats
Instructions
Caramel:
Melt caramels and butter in a medium saucepan over medium-low heat until melted and smooth. Add caramel ice cream topping and stir. Remove from heat and set aside.


Rice Krispie treats:
In a large pot, melt butter over medium-low heat. Add marshmallows and stir until almost melted.
Stir in vanilla, 1 tsp of sea salt, and about ⅔ of the caramel mixture. Stir until ingredients are completely combined.
Remove from heat. Stir in cereal, a cup at a time, until it's evenly coated with the marshmallow mixture.
Press mixture into a 13x9-inch baking pan with nonstick cooking spray - press down with a spatula sprayed with cooking spray.
Spread the reserved caramel mixture over rice krispie treats. Sprinkle with the remaining 2 tsp of the sea salt.
Let treats cool, then cut into squares and enjoy!
Enjoy. And try not to eat them all in one sitting.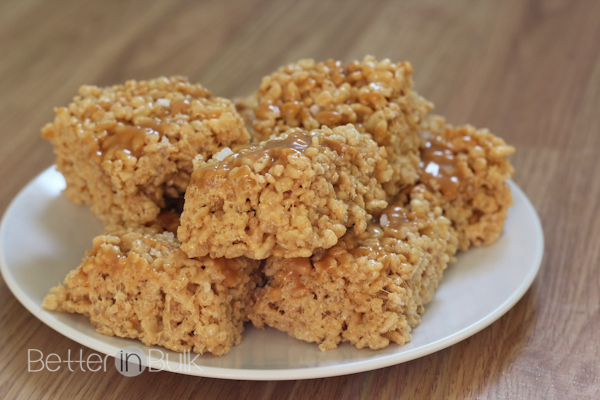 © 2013, Food Fun Family. All rights reserved.