Brought to you by JELL-O. Anything can go wrong during the holidays. Except these recipes.

 

My mom's Aunt Fern made a special fudge every year from a heavily guarded secret recipe. She refused to share her secret for years, despite the urgings of the other women in the family.
Her fudge remained a favorite holiday treat for years and she was the only one who would make it. Or at least that's the story I've been told.
By the time I came around, my mom had been making Aunt Fern's fudge for years. Because as much as Aunt Fern didn't want to share her recipe, her sister, Violet didn't care…and Violet had the recipe, too. The secret was out.
This holiday season I have a fudge recipe that is just as exciting as Aunt Fern's not-so-secret recipe, with two very distinct differences: I am more than happy to share this recipe and my recipe is fast and easy to make (I can't say the same about Aunt Fern's fudge).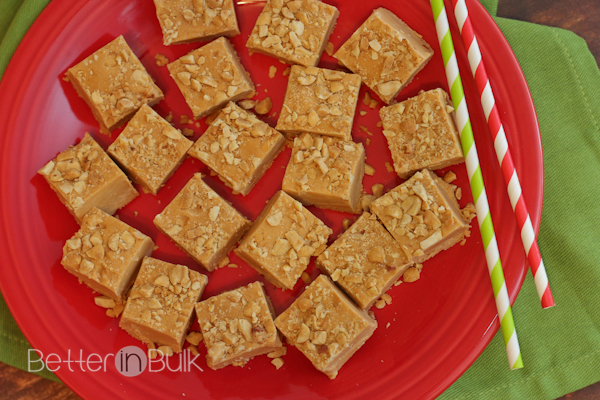 This peanut butter fudge with butterscotch JELL-O Instant Pudding was an instant hit. We have found a new permanent item on our Christmas cookie and candy plates that we deliver to neighbors.
I think I've eaten at least 10 of these peanut butter fudge bites myself.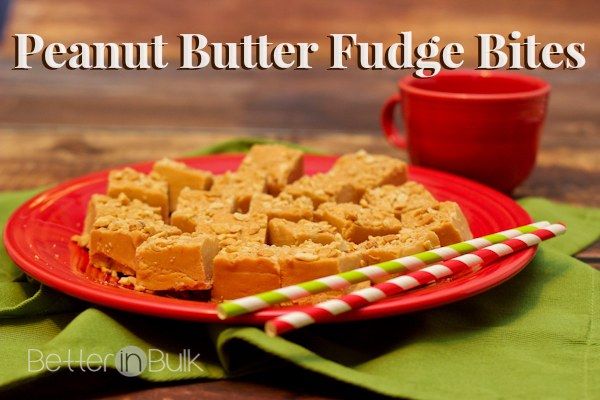 Peanut Butter Fudge Bites
Ingredients
1-1/2 pkg. (4 oz. each) BAKER'S White Chocolate (6 oz.)
½ cup PLANTERS Creamy Peanut Butter
⅓ cup water
1 pkg. (3.4 oz.) JELL-O Butterscotch Instant Pudding
3 cups powdered sugar
6 Tbsp. chopped PLANTERS Dry Roasted Peanuts
Instructions
Line 8-inch square pan with foil, with ends of foil extending over sides. Microwave first 3 ingredients in large microwaveable bowl on HIGH 2 min.; stir until chocolate is completely melted and mixture is well blended.
Add dry pudding mix; stir with whisk 2 min. Gradually stir in sugar; press onto bottom of prepared pan. Top with nuts; press gently into fudge to secure.
Refrigerate 2 hours or until firm. Use foil handles to lift fudge from pan before cutting into pieces.
This fudge from Jell-O's holiday lineup of yummy recipes could not have been easier to make or more delicious. I love finding recipes that are both easy to make…and worth making again. I can't wait to make another batch, but this time I'm holding out for the holiday plates for the neighbors so I'm not tempted to eat all of them myself.
For more amazing holiday recipes, visit Jell-O.com. Which recipe are you most excited to try?
© 2013, Food Fun Family. All rights reserved.