Chocolate Chip Cookie Pops Recipe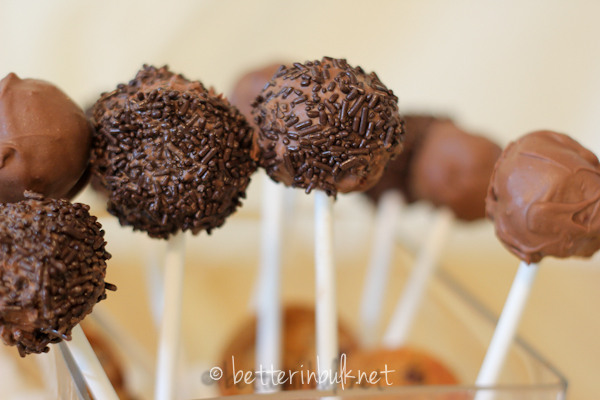 16 WhoNu® Soft & Chewy Chocolate Chip Cookies
3 oz reduced fat cream cheese, softened
8 oz melting chocolate
Chocolate sprinkles, if desired
12 lollipop sticks
Crush the WhoNu® Soft & Chewy Chocolate Chip Cookies in a bowl or sealed plastic bag.
Mix crushed cookies with softened cream cheese. (You may need to knead the mixture with your hands.)
Form the cookie mixture into balls and place in the freezer for approximately 30 minutes. (You don't want the balls to freeze completely.)
Melt chocolate according to recommendations on the package.
Dip each cookie ball into the melted chocolate, letting the extra chocolate drip off, and place on a cookie sheet covered in waxed paper. (If desired, roll each chocolate-covered ball in sprinkles before setting them down.)
Gently push a lollipop stick into each ball on the cookie sheet. Refrigerate until chocolate has hardened.
Recipe by
Food Fun Family
at https://foodfunfamily.com/chocolate-chip-cookie-pops-recipe/