Sausage and Pepper Pasta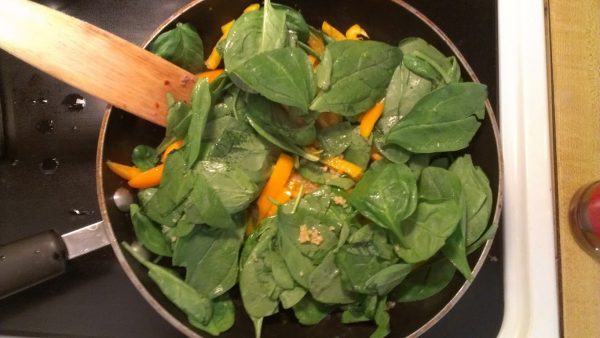 12 oz box penne pasta
1 Tbs olive oil
1 large orange bell pepper, thinly sliced
2-3 cups fresh spinach
2 tsp minced garlic
¼ tsp freshly ground pepper
½ lb group Italian sausage
1 16-oz jar Rose Romano's Italian peppers (I used red bells)
1 16-oz container low fat cottage cheese
½ cup mozzarella cheese
Heat oven to 375 degrees.
Cook pasta according to package directions. Drain.
Crumble sausage in a large skillet and heat til cooked through.
Meanwhile, heat olive oil in a large skillet. Add peppers, spinach, garlic, and ground pepper, Stir and cook until the peppers are softened and the spinach is wilted.
Spread a small amount of Rose Romano's gourmet pepper topping on the bottom of a large baking dish.
Add a layer of penne pasta over the sauce (approximately ⅓ of the cooked pasta).
Pour about ⅓ of the jar of Rose Romano's sauce on top of the pasta, followed by a layer of sausage and a layer of the spinach/pepper mixture. Finally, add ⅓ of the cottage cheese.
Repeat the layers 2 more times until all of your ingredients are added.
Top with mozzarella cheese.
Bake for 15-20 minutes or until mozzarella cheese is melted.
Serve with Parmesan cheese.