Pumpkin Cinnamon Rolls With Cream Cheese Frosting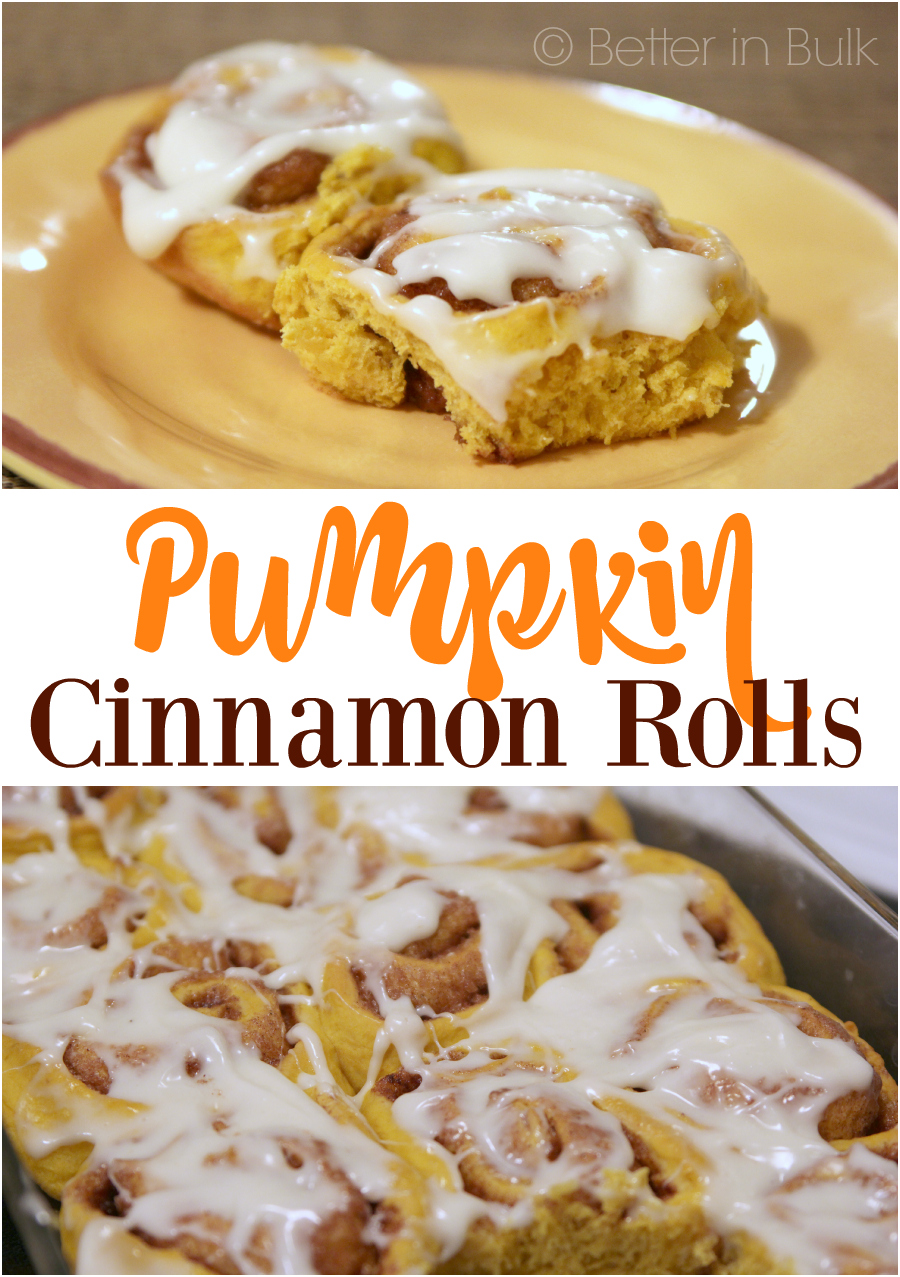 Recipe type:
Dessert, breakfast
2 Tbsp butter
½ cup milk
2 envelopes active dry yeast
¾ cup pumpkin puree
¼ cup granulated sugar
1 tsp salt
2½ cups all-purpose flour
1 cup granulated sugar
2 tsp ground cinnamon
½ tsp ground nutmeg
2 Tbsp butter
4 oz cream cheese, softened
4 Tbsp butter, softened
1¾ cup powdered sugar
½ tsp vanilla extract
In a saucepan over medium-high heat, brown 2 tablespoons of butter until it bubbles and turns a dark golden brown - be careful not to allow it burn. Once browned, remove the pan from the heat and add the milk. Stir, return to stove and heat through.
Pour the milk and butter mixture into the bowl of standing mixer and allow to cool slightly - you want the milk to be warm (about 100-110 degrees F). Once it has reached a warm (no longer hot) add the yeast and ¼ cup of sugar and allow yeast to proof.
After the yeast mixture is foamy, add the the pumpkin, salt, and 1 cup of flour. Stir until combined then add the rest of the flour ½ cup at a time. Knead with dough hook for 6 minutes, until the dough is smooth and elastic and just slightly sticky. If the dough is too moist and sticking to the sides of the bowl, add extra flour a little bit at a time.
Move dough to a bowl prayed with Pam and cover with a clean towel. Allow the dough to rise in a warm place for 60-90 minutes or until doubled in size.
While the dough is rising, brown another 2 tablespoons of butter. Add the sugar, cinnamon, and nutmeg and mix well. Set aside.
Next, spray a 9x13" baking dish with Pam and set aside. (I needed to use a loaf pan as well)
When the dough has doubled in size, punch it down and place it on a clean floured surface. Roll dough into a 20×12 inch rectangle.
Spread the cinnamon sugar mixture on top of the dough.
Beginning with the long side, evenly roll the dough up. Cut log into 1½ inch wide rolls, and place each roll spiral side down in the greased pan. (I usually fit 12 rolls in a 9x13" pan)
Cover the pan with plastic wrap and a clean towel and let rise for 30-45 minutes.
Preheat an oven to 350 degrees. When the rolls have doubled in size, bake for 30-40 minutes or until golden brown.
To prepare the frosting, add the cream cheese, butter, powdered sugar, and vanilla to a small bowl. Mix with a hand mixer until smooth. Add a small amount of milk to the frosting to thin, if desired. Spread over hot rolls.
Recipe by
Food Fun Family
at https://foodfunfamily.com/pumpkin-cinnamon-rolls-with-cream-cheese-frosting/