Chicken and Corn Chowder Soup Recipe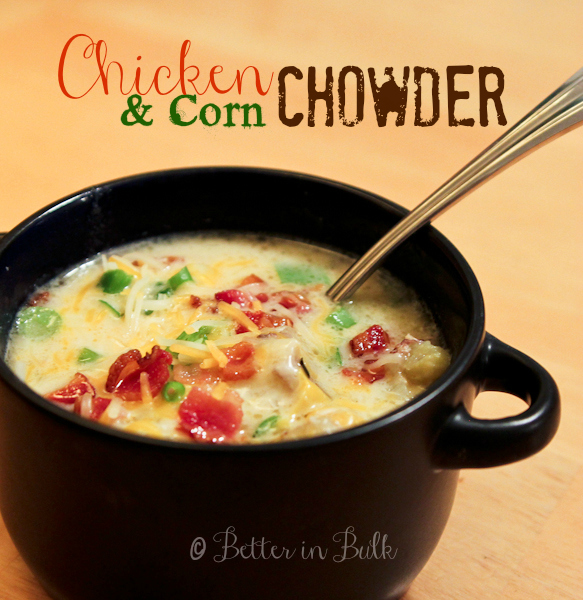 Recipe type:
soup, main course
1 - 15 oz can whole kernel corn
1 - 15 oz can cream corn
6 slices bacon, chopped
4 green onions
3-4 medium potatoes
2 tablespoons all-purpose flour
3 cups milk
2 cups chicken broth
1 tsp paprika
1 tsp dried parsley flakes
½ teaspoon dried thyme
¼ teaspoon cayenne pepper
¼ tsp nutmeg
3 bay leaves
1 - 4 oz chopped green chiles
2 cups chopped, grilled chicken
Salt and pepper, to taste
Grated cheddar cheese, for garnish
In a large pot, cook the bacon until crisp. Remove bacon from the pan, but leave the drippings, and set aside.
Peel and chop the potatoes into bite sized pieces.
Slice the green onion (separating the greens from the whites).
Add the potatoes and white onion pieces to the stock pot with the bacon grease and cook over medium heat until the onions have softened, about 2 or 3 minutes.
Sprinkle the flour on top of the potatoes and onions and cook, stirring constantly, for about 1 minute.
Pour in the milk, chicken broth, and all of the spices, and stir well. Bring to a boil over medium heat, stirring occasionally.
Reduce heat to low and simmer for appx.15 minutes or until the potatoes are tender. Add corn, chicken, and green chiles. Cook over low heat until heated through, about 5 minutes. Garnish with green onion "greens," bacon, and cheese.
Recipe by
Food Fun Family
at https://foodfunfamily.com/chicken-and-corn-chowder/