Homemade Caramels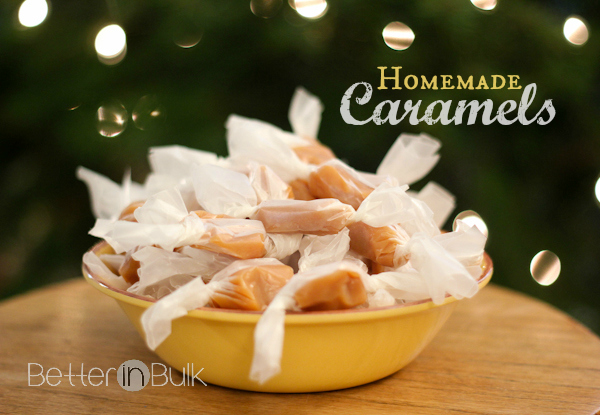 ½ lb butter
2 cups light corn syrup
2 cups sugar
2 (15 oz ) cans sweetened condensed milk
½ cup flour
2 tsp vanilla
Before you start cooking: measure 2 cups corn syrup; set aside. Mix together sweetened condensed milk and flour; set aside. Have everything close by. Spray a 9×13 pan with Pam or spread with butter, bottom only.
Melt butter in a large (3 qt or larger) non-stick pan. Add corn syrup and sugar. Bring to boil on med heat, stirring often, and boil for 5 minutes.
Remove pan from heat and stir in milk/flour mixture. Boil over med heat, stirring constantly until mixture darkens and reaches a medium hard ball stage (235º on candy thermometer).
Remove from heat and stir in vanilla. Turn into greased pan and cool completely.
Cut into 2 inch pieces on a cutting board sprayed with Pam (I remove a strip at a time to the cutting board). Wrap pieces in small squares of wax paper (I make my papers about 3x5 inches).
This recipe makes over 100 pieces, but really I lose count every time.