Birthday Cake Rice Crispy Treats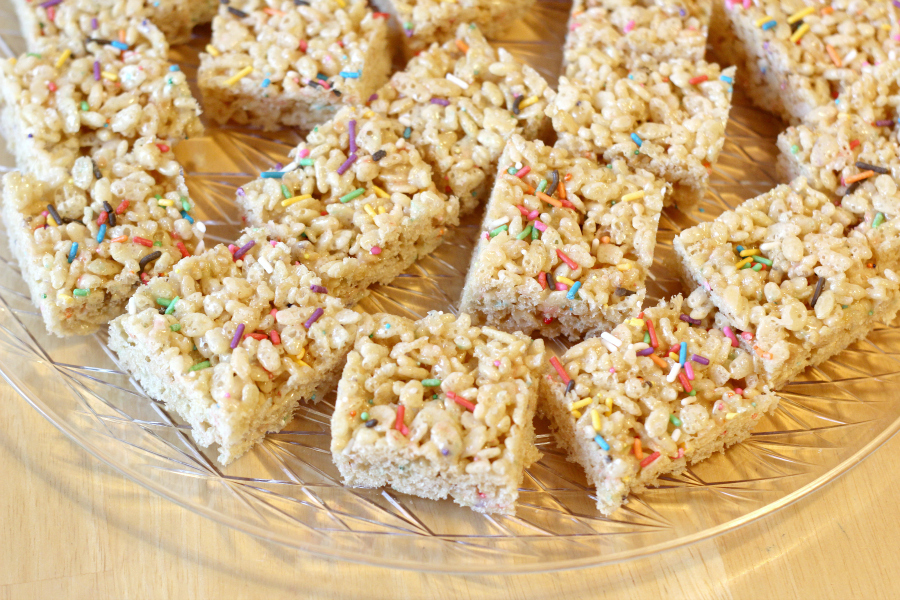 3 Tablespoons butter
1 (10 oz.) bag of mini marshmallows
⅔ cup dry yellow cake mix
6 cups crisped rice cereal
¼-1/3 cup rainbow sprinkles
Lightly grease a 9x13-inch pan and set aside.
Melt butter in a large saucepan over low heat. Add the marshmallow and stir constantly until melted.
Remove melted marshmallows from heat and stir in the dry cake mix gradually until blended.
Mix in the cereal a cup or two at a time and combine until well coated with the marshmallow mixture.
Add sprinkles, a little at a time at a time, and mix until the sprinkles are evenly distributed among the rice crispy mixture. Reserve a few Tablespoons of sprinkles to add to the top.
Transfer the cereal mixture to the baking dish and use a large spatula or a sheet of wax paper to gently press into the pan. Spread the remaining sprinkles evenly over the top of the rice crispies.
Let cool for 30 minutes before slicing into squares. Eat immediately or store at room temperature in an airtight container.
Recipe by
Food Fun Family
at https://foodfunfamily.com/birthday-cake-rice-crispy-treats/