The Best Apple Pie Recipe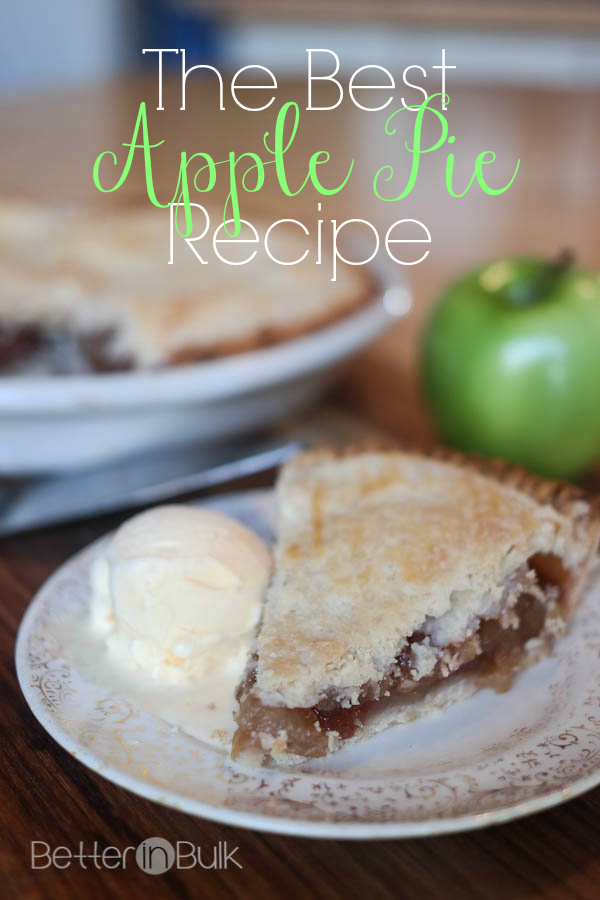 Crust:
2 cups flour
¾ cup shortening
1 tsp salt
4 tablespoons water
Filling:
6 Granny Smith apples, peeled and sliced thin
2 Tbsp butter, cold
1 cup sugar
2 Tbsp flour or cornstarch
1 tsp cinnamon
Mix flour, shortening, and salt in medium mixing bowl (I use a large fork or a pastry blender). Add water one tablespoon at a time. Mix, kneading slightly with hands if needed, until just blended. Don't over-mix. Divide dough in half. Roll each half between two sheets of waxed paper to fit your pie dish. Remove top waxed paper and carefully place in pie dish, exposed-side down. Peel off the other piece of waxed paper and press dough into dish.
In a small bowl, mix sugar, flour or cornstarch, and cinnamon.
Layer sliced apples, 2-3 slices of butter, and sugar-cinnamon mixture until pie is heaping full of apples.
Cover apples with the other half of the dough, pinching edges together (you can crimp edges down with a fork, if desired, or make a pretty wave design by pinching between fingers). With a sharp knife, cut several small slices in the top to vent.
Bake at 400 degrees for 50 minutes, or until crust is golden brown.
Allow pie to cool before slicing. Best served with vanilla ice cream!
Recipe by
Food Fun Family
at https://foodfunfamily.com/best-apple-pie-recipe/