Crockpot Barbacoa Tacos With Fresh Pico de Gallo #PinterestRemakes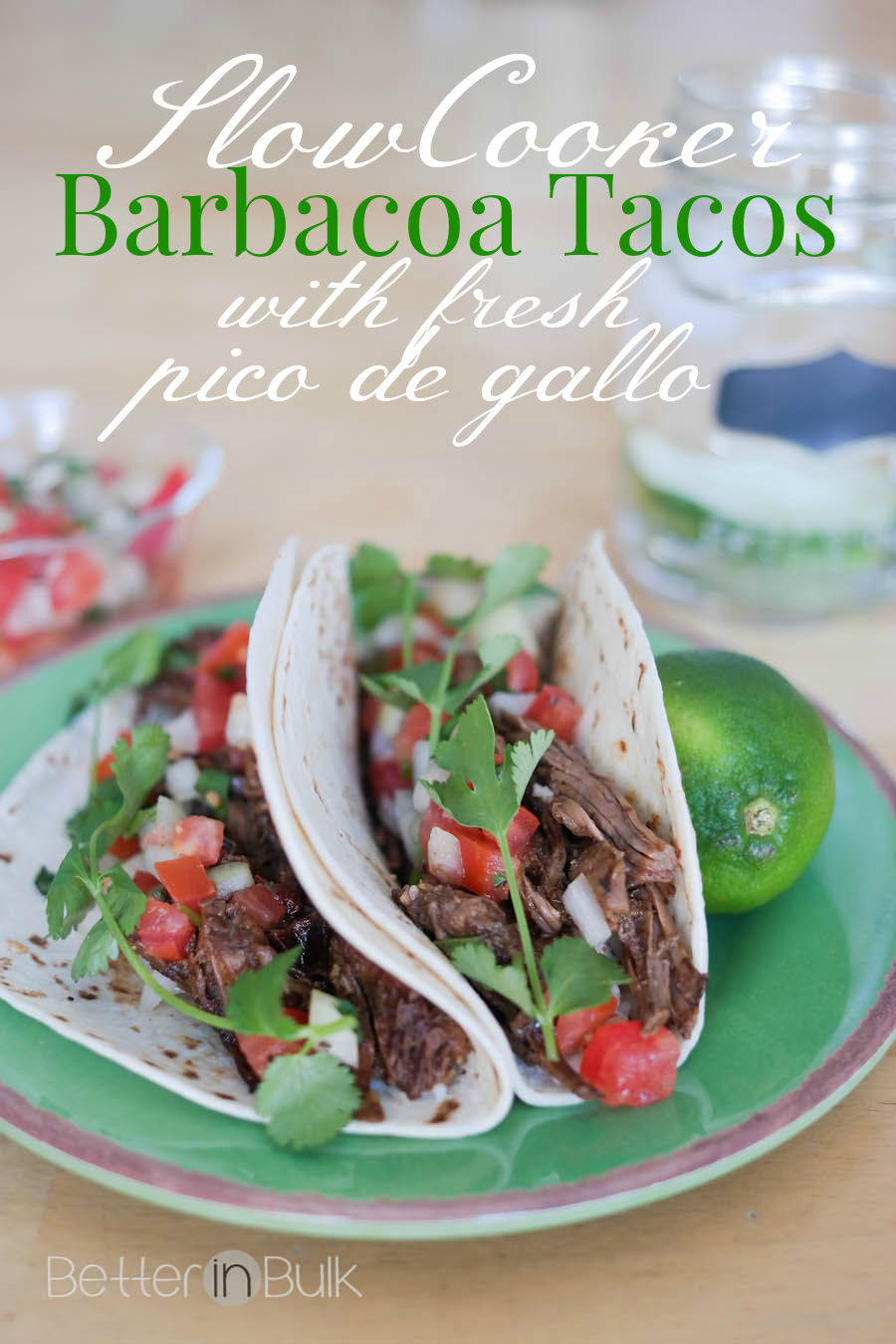 3 pounds chuck roast, cut into medium chunks (bigger than bite-sized)
4 cloves garlic, minced
2 dried chipotle peppers, chopped
¼ cup adobo sauce
⅓ cup chopped hatch chiles OR 1 (4-ounce) can chopped green chiles
1 cup white onion, finely chopped
¼ cup fresh lime juice
2 tablespoons apple cider vinegar
3 bay leaves
1 tablespoon ground cumin
1 tablespoon dried oregano
2 teaspoons salt
1 teaspoon black pepper
¼ tsp ground cloves
½ cup beef broth
4 medium ripe tomatoes, chopped
1 medium white onion, chopped
¼ cup chopped fresh cilantro (or to taste)
2 cloves garlic, minced
1 teaspoon lime juice
1 teaspoon sea salt
1 teaspoon pepper
Combine all barbacoa ingredients (chuck roast through beef broth) in slow cooker and toss lightly. Cover and cook on low for 6-8 hours or high 3-4 (I highly recommend planning ahead and cooking on low - the results are worth it!).
While barbacoa is cooking, prepare the pico de gallo by adding chopped tomatoes, onion, cilantro, garlic, lime, salt and pepper in a medium mixing bowl. Toss gently and refrigerate, covered, til ready to serve. I recommend preparing the pico at the beginning of the barbacoa cooking time to allow the flavors to combine.
When meat is finished cooking, shred with 2 forks (mine was so tender that I this step was very easy). Remove bay leaves and discard. Return shredded beef to crock pot with juices and turn heat to high for about 10-15 minutes.
Serve barbacoa in a soft tortilla shell with hot rice, pico de gallo, and any other toppings that suit your taste: cilantro, sour cream, guacamole, etc.
Recipe by
Food Fun Family
at https://foodfunfamily.com/crockpot-barbacoa-tacos/