Grilled Shrimp Tacos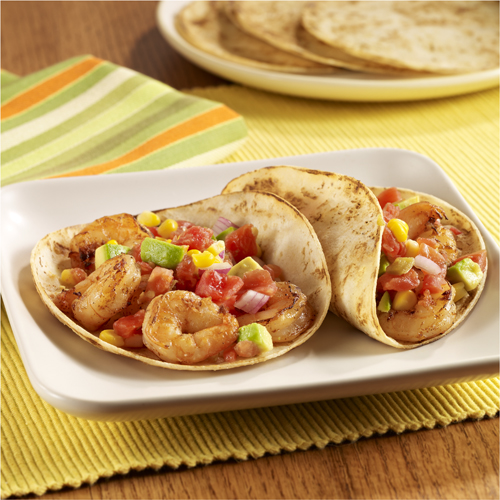 Grilling spray
1 avocado, pitted, peeled and diced
1 can Ro*Tel® Original Diced Tomatoes & Green Chilies, drained
½ cup frozen whole kernel corn, thawed
¼ cup chopped red onion
¼ teaspoon salt
1 pound peeled and deveined large shrimp (31/40) with tail, thawed
1 tablespoon olive oil
½ teaspoon chili powder
½ teaspoon ground cumin
¼ teaspoon cayenne pepper
8 white corn tortillas, warmed
Sour cream and limes for serving
Spray grate with grilling spray. Preheat grill for medium heat.
Toss avocado, tomatoes, corn, red onion and salt in medium bowl; set aside.
De-tail shrimp and drizzle with olive oil. Thread shrimp evenly onto metal skewers.
Combine chili powder, ground cumin and cayenne pepper. Evenly sprinkle spice mixture on shrimp skewers.
Grill shrimp skewers for 2 to 3 minutes on each side.
Warm up tortillas in the microwave or on a pan over medium-high heat.
Divide shrimp between warmed tortillas. Top each tortilla with ¼ cup topping mixture. Serve with limes and sour cream.