Watermelon-Berry Popsicles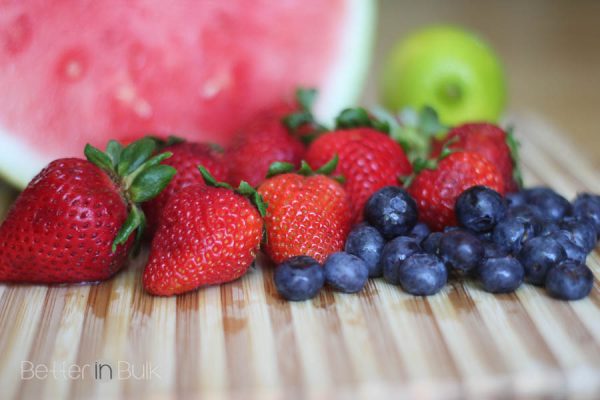 4 cups watermelon, cut into cubes
2 cups strawberries, sliced
1 cup blueberries
Juice of 2 limes
¼ cup sugar, optional
3 ounce paper cups
Popsicle sticks
Place watermelon cubes in blender and blend for a few seconds (it doesn't take much for watermelon to be pureed). Add strawberries, blueberries, and lime juice and blend until large pieces of fruit have been pureed.
Test a small spoonful - Add additional berries or sugar if needed for taste.
Pour into 3 ounce paper cups and place in freezer for 30 minutes to an hour (I recommend placing the cups on a tray to make them easier to take in and out, and to ensure that they don't tip).
After the popsicles have had a chance to harden (but not solidify completely), place a popsicle stick in the middle of each cup. Return to freezer and chill until frozen through.
To eat, simply tear the paper cup away from the popsicle and enjoy!
Recipe by
Food Fun Family
at https://foodfunfamily.com/watermelon-berry-popsicles/