Butterfinger Rice Krispie Treats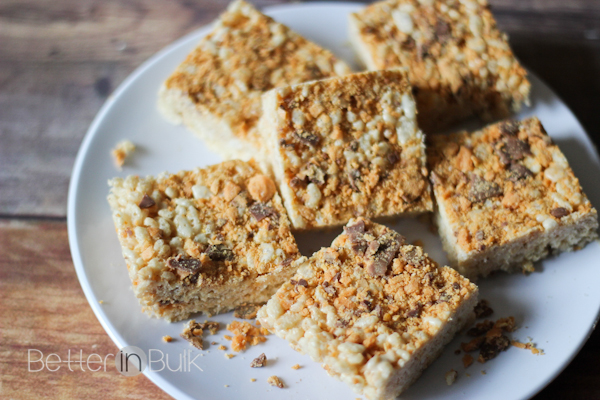 3 Tbsp butter
36 regular marshmallows (or 3 very full cups mini marshmallows)
5 cups rice krispies cereal
2 regular-sized Butterfingers candy bars
Crush Butterfingers in a large plastic bag. Reserve about ¼ cup crushed Butterfingers. Set aside.
Melt butter in a large saucepan over medium heat.
Add marshmallows and melt, stirring frequently.
When the marshmallow/butter mixture is fully melted, remove the pan from the heat.
Pour rice cereal into the pan and add crushed Butterfingers (save the ¼ cup reserved crumbs for later). Stir gently until completely covered.
Press rice crispy treats into a lightly buttered 9×13 baking dish and press firmly into pan.
Sprinkle reserved Butterfinger crumbles over the top of the rice krispie treats and press slightly to make the crumbles "stick". Let cool for at least 30 minutes and cut into bars.
Store rice krispie treats in a covered container.
Recipe by
Food Fun Family
at https://foodfunfamily.com/butterfinger-rice-krispie-treats/