The BEST Slow Cooker BBQ Chicken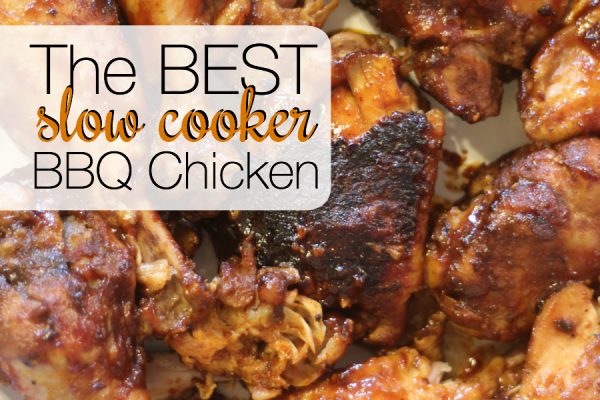 1 tablespoon brown sugar
1 tablespoon paprika
1 teaspoon dry mustard
1 teaspoon cumin
1 teaspoon garlic powder
1 teaspoon minced onion
¼ teaspoon cayenne pepper
Salt and pepper, to taste
4-5 lbs chicken drumsticks and thighs (with bones and skin)
16-18 ounce bottle barbecue sauce
Mix all spices in a gallon-sized ziploc bag. Toss chicken in bag, a few pieces at a time, so that each piece is coated in the seasoning mix. Place chicken in the crock pot. Pour about half of the bottle of BBQ sauce over the chicken and toss to coat.
Cover and cook chicken on low for 5-6 hours.
When chicken is cooked through, heat a cast iron skillet over medium high heat (if you don't have cast iron, it's fine to use a regular skillet, but you may want to spray with a nonstick spray first). When skillet is hot, remove chicken from slow cooker using tongs and place in skillet. Brush top of each piece with BBQ sauce. Turn chicken and brush other side with BBQ sauce. Flip again to "sear" BBQ sauce on chicken - just 1-2 minutes per side is plenty to sear those flavors in.
Remove chicken from skillet and serve with your favorite side dishes.
Recipe by
Food Fun Family
at https://foodfunfamily.com/best-slow-cooker-bbq-chicken/