Chocolate Chip Cookie-Stuffed Oreos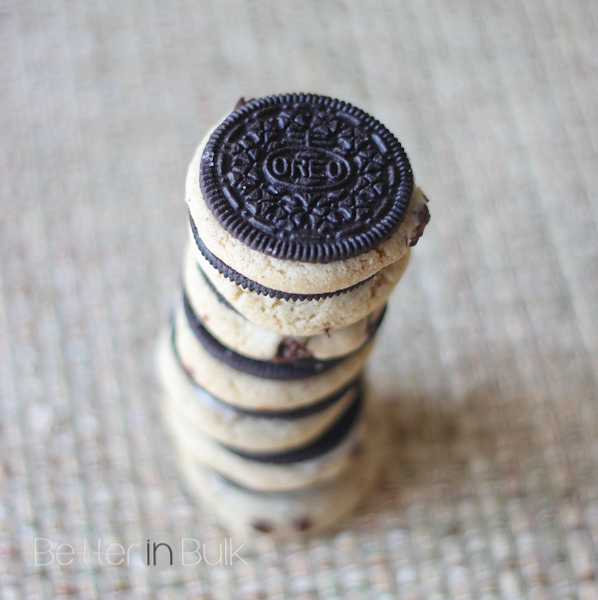 ¾ cup granulated sugar
¾ cup brown sugar
1 cup butter, softened (don't substitute margarine)
1 large egg
2¼ cups flour
1 tsp baking soda
½ tsp salt
1½ to 2 cups chocolate chips
1 package of Oreos
Separate Oreos halves, making sure that one side of the sandwich has all of the frosting filling and the other side is frosting-free. Place the frosting-free Oreo halves on a cookie sheet. Put the frosting halves aside.
Heat oven to 375 F.
Mix sugars, butter and egg in large bowl.
Stir in flour, baking soda and salt with a wooden spoon.
Stir in chocolate chips.
Place one small ball of dough on top of each frosting-free Oreo half. Refrigerate for at least 30 minutes.
Bake 8-10 minutes or until chocolate chip cookies are light brown. Take cookies out of the oven and immediately press the other half of the Oreo (the side with the frosting!) on top of each chocolate chips cookie. Smoosh and smash and watch the frosting melt. I dare you not to eat a dozen of them!
Cool slightly and remove from cookie sheet to cool on wire rack.
Recipe by
Food Fun Family
at https://foodfunfamily.com/chocolate-chip-cookie-stuffed-oreos/