Chocolate "Muddy Buddy" Snowy Pinecones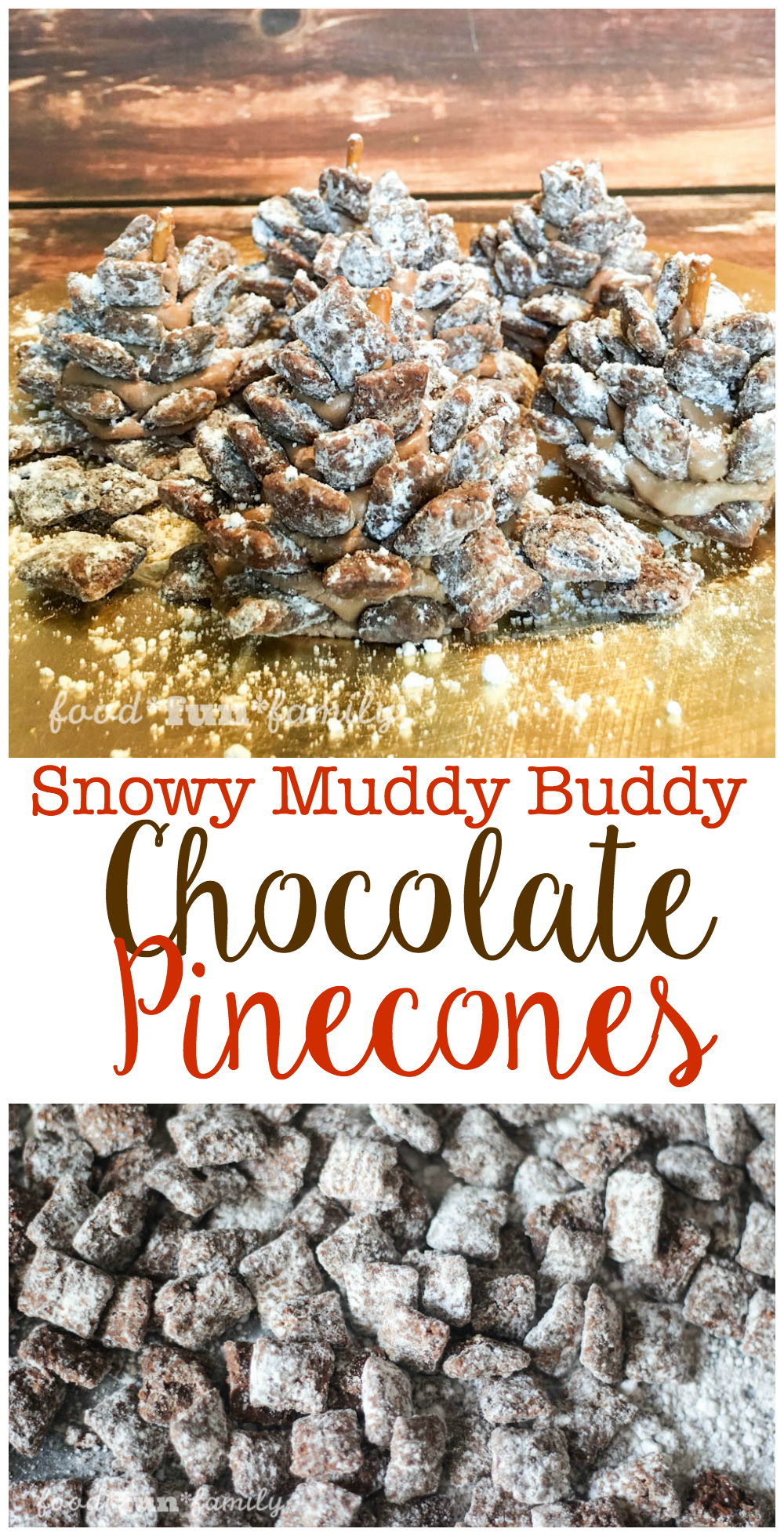 4½ cups Chocolate Chex cereal (or other Chex flavor)
½ cup semisweet chocolate chips
¼ cup peanut butter
2 tablespoons butter or margarine
½ teaspoon vanilla
¾ cup powdered sugar
½ cup peanut butter
¼ cup Nutella
2 tablespoons coconut oil
1½ cups powdered sugar
6 pretzel sticks
Powdered sugar for dusting
Measure cereal into a large bowl; set aside.
In microwavable bowl, microwave chocolate chips, peanut butter and butter uncovered on High about 1 minute; stir. Add a 10-30 seconds as needed until mixture can be stirred smooth. Stir in vanilla. Pour mixture over cereal, stirring until evenly coated.
Sprinkle powdered sugar over cereal and toss gently with large spoon or hands until evenly coated.
Mix peanut butter, Nutella, coconut oil, and powdered sugar in a bowl. I found it easiest to knead with my hands at the end. Add additional powdered sugar if needed to make a firm dough.
Separate dough into 6 equal parts. I found it helpful to chill the base sections you aren't using in refrigerator while you're working on the other pinecones.
Form each of the sections of pinecone base into cones with the large part on the bottom. Stick a pretzel stick through the top for a little stability. Sprinkle work area generously with powdered sugar so the pinecone won't stick when you try to move it.
Beginning at the bottom of the cone, stick cereal (muddy buddy) pieces around the base. Work up the pinecone, sticking cereal pieces into the base, angled so that the cereal points upwards. Keep working upwards and around until you've covered the entire "pinecone" with cereal. I angled my cereal pieces more as I got closer to the top.
Dust each pinecone with powdered sugar. To eat: remove the cereal pieces from the base (and be sure to grab a little bit of that Nutella and peanut butter dough in each bite!).
Recipe by
Food Fun Family
at https://foodfunfamily.com/chocolate-snowy-pinecones/