Triple Chocolate Waffles with Raspberry Sauce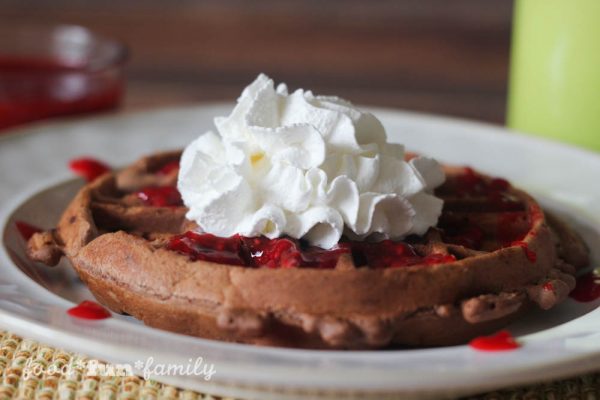 1½ cups all-purpose flour
2 teaspoons baking powder
½ teaspoon salt
½ cup granulated sugar
3 tablespoons unsweetened cocoa powder
2 eggs, beaten
1 cup TruMoo chocolate milk
4 tablespoons butter, melted
½ cup miniature semi-sweet chocolate chips
1 cup frozen raspberries
2 tablespoons granulated sugar
1 tablespoon cornstarch
½ cup cold water
1 tablespoon lemon juice
Preheat waffle iron.
Add all waffle ingredients except for the chocolate chips into a medium mixing bowl and stir or beat just until thoroughly mixed and smooth. Stir in chocolate chips.
Pour waffle batter onto heated waffle iron and cook according to your waffle iron's directions. Remove waffle when cooked through and keep warm until ready to serve. I like to stick mine on an oven-safe plate in a warm oven.
Serve with raspberry sauce and whipped cream and a side of TruMoo hot chocolate or make it simple and serve with powdered sugar (and more hot chocolate, of course!).
Toss the frozen raspberries with sugar and cornstarch. Add raspberry mixture to a small saucepan over medium heat. Add cold water and lemon juice and stir. Continue stirring for several minutes, until raspberry sauce thickens and becomes translucent and a darker shade of red. Remove from heat and pour, hot, over your waffles.
Note: I did not have to mash my raspberries, because by the time the sauce was finished cooking, they had softened and broken up on their own. If you have large chunks of berries in your sauce, you may want to mash them before serving.
Note: this recipe will yield a different amount of servings depending on the size of your waffle maker. We made about 8 waffles on ours.
Recipe by
Food Fun Family
at https://foodfunfamily.com/triple-chocolate-waffles-with-raspberry-sauce/