Refreshing Greek Chicken Wraps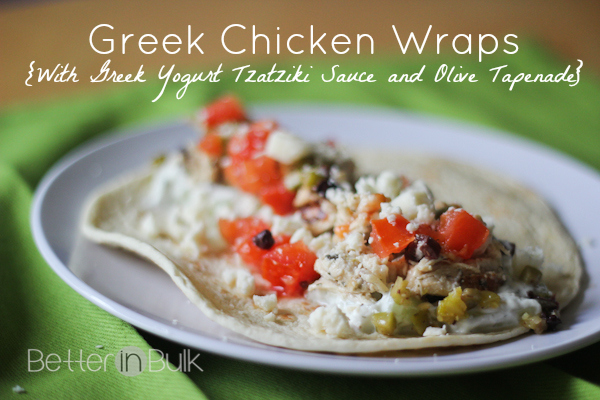 Chicken:
4 cloves garlic, minced
1 Tablespoon lemon juice
1 Tablespoon red wine vinegar
3 Tablespoons extra virgin olive oil
3 Tablespoons plain Greek yogurt
1 teaspoon dried oregano
½ teaspoon dried dill
Salt and pepper
1-2 pounds boneless skinless chicken
Tzatziki sauce:
16 ounces plain Greek yogurt
1 cucumber (peeled, seeded and diced)
2-3 cloves garlic, minced
1 tablespoon white wine vinegar
1 teaspoon, dried dill
1 teaspoon dried oregano
2 teaspoons lemon juice
1 tablespoon extra virgin olive oil
Tapanade:
¼ cup pitted kalamata olives, chopped
¼ cup pitted green olives, chopped
1 clove garlic, minced
2 Tablespoons pepperoncini slices, diced
1 teaspoon dried oregano
For pitas:
6-8 pita breads
1 medium tomato (or several cherry tomatoes), diced
Romaine lettuce, if desired
feta cheese
To prepare the chicken, combine the garlic, lemon juice, red wine vinegar, olive oil, greek yogurt, oregano, dill in a medium bowl. Add chicken to the marinade and let sit in the refrigerator for an hour or overnight.
To prepare the tzatziki sauce, mix the greek yogurt, cucumber, garlic, white wine vinegar, dill, oregano, lemon juice and olive oil in a small bowl. Set aside in the refrigerator.
To prepare the tapanade, dice the olives and mix in a small bowl with the garlic, pepperoncini, and oregano.
Remove chicken from marinade; reserve marinade. Salt and pepper to taste. Grill chicken on both sides until no pink remains. Pour the remaining marinade in a small pan and bring to a boil; simmer for 5 minutes.
Slice chicken and add to pan with cooked marinade.
To serve, add chicken, tzatziki sauce, tapanade, tomatoes, lettuce, and feta cheese to a warmed pita.
I just used one 16 ounce container of Greek yogurt. When I made the tzatziki sauce, actually used 16 ounces minus 3 Tablespoons.
Recipe by
Food Fun Family
at https://foodfunfamily.com/greek-chicken-wraps/