DIY Finding Dory Fizzing Bath Bombs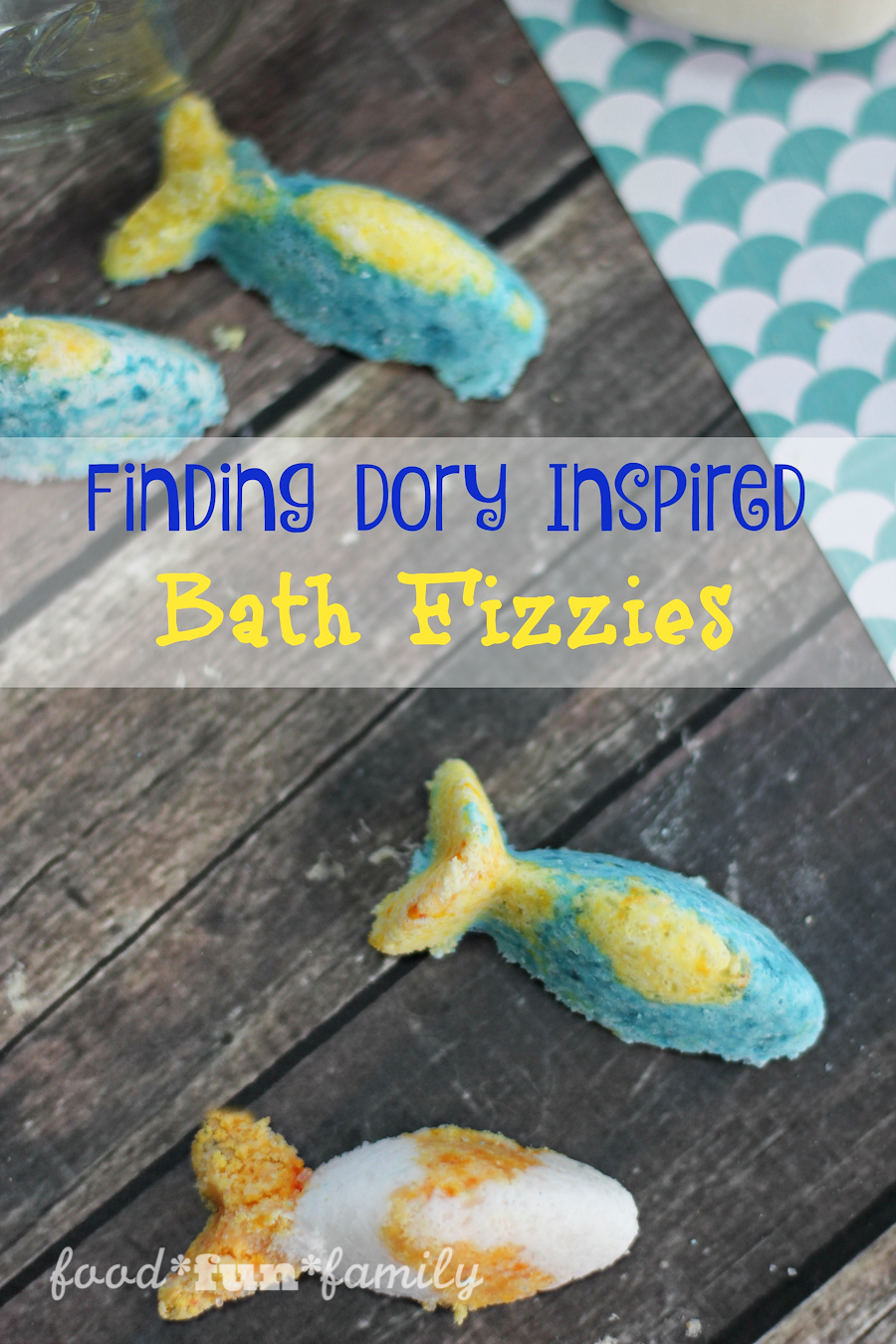 1 cup citric acid - Get it HERE
2 cups baking soda
¼ cup epsom salts
1 tablespoon coconut or almond oil
15-20 drops essential oil (see below for suggestions or as me for some additional ideas)
Food coloring- orange, blue, and yellow
Water in a small spray bottle
Fish mold (silicone works best) - Get it HERE
Spoon
Whisk
With a wire whisk combine citric acid, baking soda, epsom salts, essential oil, and almond or coconut oil until well combined.
Divide in half, and then take a small portion out of each to make 2 smaller portions (ie, two big bowls and two small bowls).
Add a of couple drops of orange food coloring to one of the larger bowls and a couple drops of blue to the other large portion and stir, adding until desired color is reached.
Leave one of the smaller portions white and color the other yellow- you will use the least of these.
Spray each mixture with a bit of water from the spray bottle, spritzing and stirring constantly until mixture is just barely damp and holds together but not wet- if it begins to fizz you are adding too much.
For Dory- Use a small spoon to add yellow to the tail and a bit in the middle for her fin, press down hard. Fill in the rest with blue, press firmly.
For Nemo/Marlin- Alternate white and orange in your fish mold until full, press firmly into mold.
Allow your bath fizzies to harden overnight or at least 2 to 3 hours until set.
Remove carefully from mold and store in a cool, dry space until ready to use- a mason jar with a lid is perfect to hold them.
Recipe by
Food Fun Family
at https://foodfunfamily.com/diy-finding-dory-fizzing-bath-bombs/