White Cheddar Mac and Cheese with Grilled Chicken and Apples #15MinuteSuppers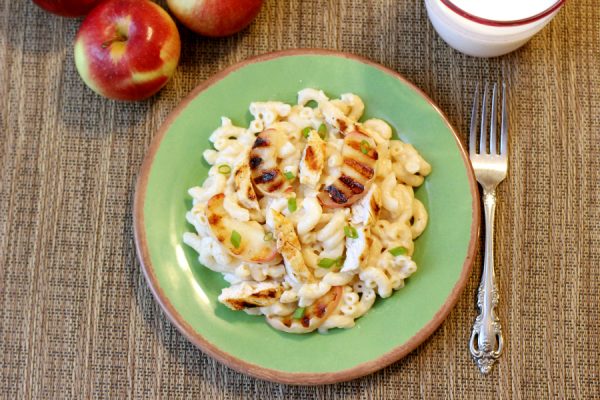 ¼ cup butter
2 tablespoons white flour
2 cups low-fat milk
1 cup white cheddar cheese, cubed or shredded
1 lb elbow macaroni
1-2 boneless, skinless chicken breasts
Seasoned salt, to taste
¼ teaspoon seasoned salt
? teaspoon ground pepper
Pinch of paprika
1 medium apple, sliced, peel on
1 stalk green onion, chopped
Cook macaroni pasta per package instructions.
Sprinkle chicken with seasoned salt to taste. Cook chicken on an indoor or outdoor grill (or in a fry pan if necessary) while pasta and sauce are cooking. When I use my indoor grill, chicken cooks in about 7 minutes. Cut chicken into thin slices.
In a medium saucepan on medium heat, add butter and cook until melted. Add flour and mix thoroughly.
Pour in milk gradually and stir to combine. Heat mixture until milk is hot - do not boil.
Add shredded or cubed cheese to milk mixture and cook, stirring until cheese is melted.
Add sliced apples to grill and cook for just a minute (you may have to put foil underneath if you're cooking on an outdoor grill. If you're using an indoor grill or fry pan, use the same cooking surface as the chicken) - sprinkle with a touch of seasoned salt if desired.
Drain macaroni and combine pasta and sauce. Sprinkle with paprika, seasoned salt and pepper to taste. Toss with grilled chicken and apples.
To serve, sprinkle with green onions and serve with a side of green peas.
You can add thinly sliced fresh apples if you'd rather not grill them!
Recipe by
Food Fun Family
at https://foodfunfamily.com/white-cheddar-mac-cheese/