Cafe Rio Sweet Pork Salad Copycat Recipe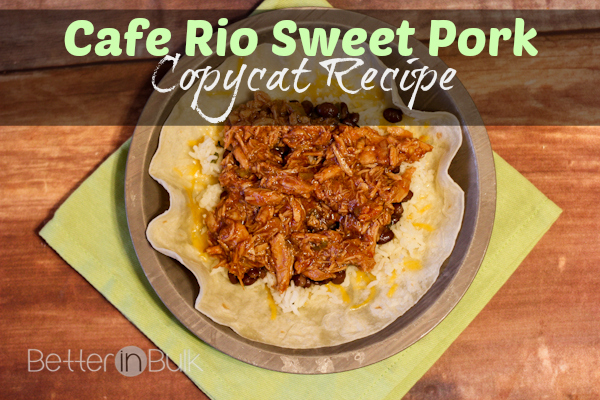 2 pound pork loin roast
3 cans Coke (apparently, Diet Coke doesn't work, but I've used Coke Zero and didn't have any complaints)
¼ cup brown sugar
⅛ teaspoon garlic salt
¼ cup water
1 can diced green chilies, undrained
⅔ cup red enchilada sauce (I made my own, but any can will work)
1 cup brown sugar
Salad:
Shredded lettuce
Guacamole
Rice I like Cilantro Lime Rice)
Shredded cheese
Cilantro dressing (I use Trader Joe's Cilantro Salad dressing or the copycat recipe listed below)
Pico de Gallo (or chopped tomatoes)
Black beans
Tortilla strips or crushed tortilla chips
1 large flour tortilla per salad
Place the pork, ¼ cup brown sugar and one can of Coke in a heavy duty ziploc bag to marinate. Marinate in the fridge for several hours or overnight.
Drain marinade and discard. Put pork, ½ can of Coke, water, and garlic salt in crock pot and cook on high for about 3-4 hours or on low for 8 hours. Remove pork from crock pot and drain liquid. Shred pork.
In a medium bowl, mix 1 can Coke, green chilies, enchilada sauce and 1 cup brown sugar. Add additional Coke if needed.
Put shredded pork and sauce in crock pot and cook on low for 2 hours. Add meat to salad, burritos, tacos, etc.
Recipe by
Food Fun Family
at https://foodfunfamily.com/cafe-rio-sweet-pork-copycat/