Mango Chutney Chicken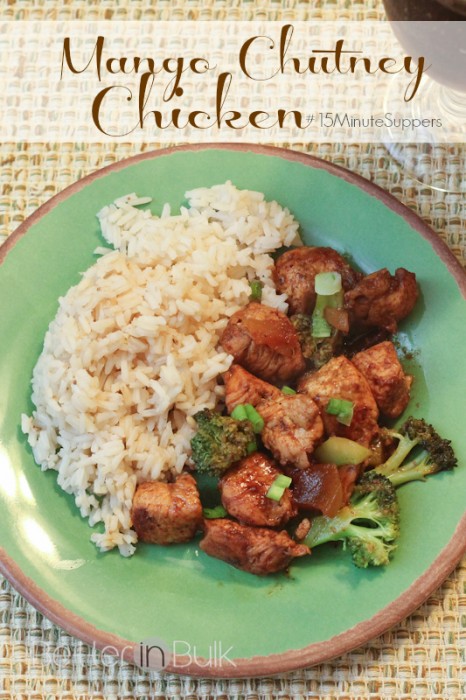 3 boneless, skinless chicken breasts, cut into bite-sized pieces
2 tablespoons chili powder
1 teaspoon cumin
1 teaspoon cinnamon
2 teaspoons seasoned salt
1 tablespoon vegetable oil
½ medium onion, chopped
1-2 cups broccoli, cut into small pieces
½ cup mango chutney
2 stalks green onions, sliced
Hot, cooked rice
Mix spices (chili powder, cumin, cinnamon, and seasoned salt) in a small bowl. Toss mixed spices with the cubed chicken so that chicken is thoroughly coated.
Heat vegetable oil over medium-high heat in a large pan. Add chicken and cook for 2-4 minutes, stirring occasionally. Add onion and broccoli to pan with chicken and continue cooking until chicken is cooked through and broccoli and onions are crisp-tender.
Pour mango chutney over chicken and vegetables and mix. Serve over cooked rice and garnish with sliced green onion.