Chocolate Chip Cookie Dough Rice Krispie Treats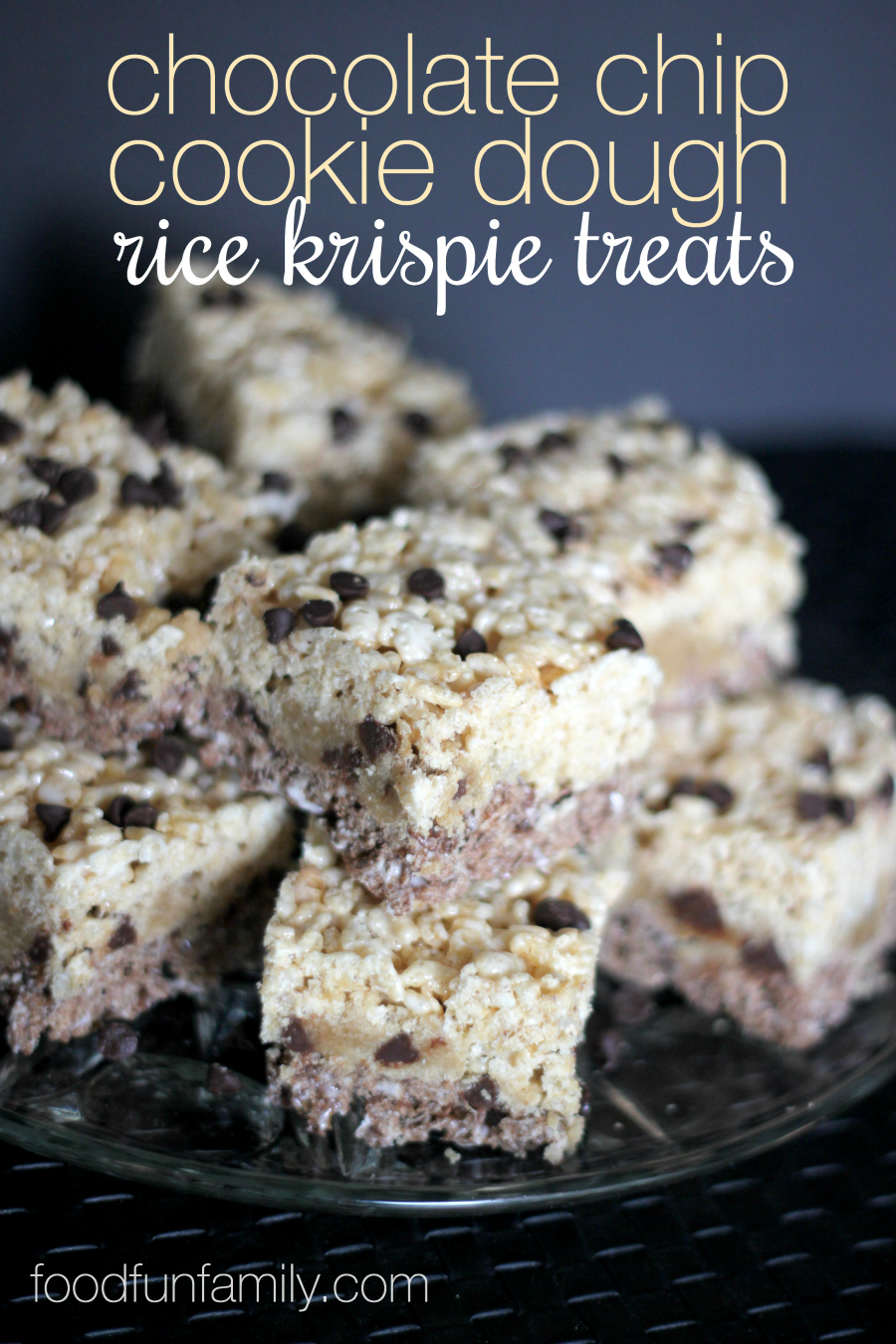 No-Bake Cookie Dough:
½ cup butter, softened
¾ cup light brown sugar
4 tablespoons water
1 tablespoon vanilla extract
1 cup all-purpose flour
½ teaspoon salt
1 cup mini semisweet chocolate chips
Rice Krispie Treats:
3 tablespoons butter or margarine
1 package (10 oz) marshmallows
3 cups Rice Krispies cereal
3 cups Cocoa Krispies cereal
Lightly grease a 9x13 baking dish. Set aside.
In a medium mixing bowl, cream together butter, brown sugar, water and vanilla. Stir in flour and salt until fully combined. Gently stir in chocolate chips. Set aside.
Put regular rice krispies and cocoa krispies into separate bowls. Set aside.
In a medium saucepan, melt butter over low heat. Add marshmallows and stir until completely melted.
Pour half of the marshmallow mixture over the rice krispies and half over the cocoa krispies. Stir each bowl carefully until combined.
Scoop cocoa krispie mixture into the 9x13 pan. Press gently with the flat end of a wooden spoon or large spatula.
Crumble cookie dough over cocoa krispies and press down. Finally, add the rice krispie layer and press down to mesh layers. Sprinkle with mini chocolate chips, if desired.
Let cool and then slice into squares and enjoy!
Recipe by
Food Fun Family
at https://foodfunfamily.com/cookie-dough-rice-krispie-treats/