Carrot and Zucchini Muffins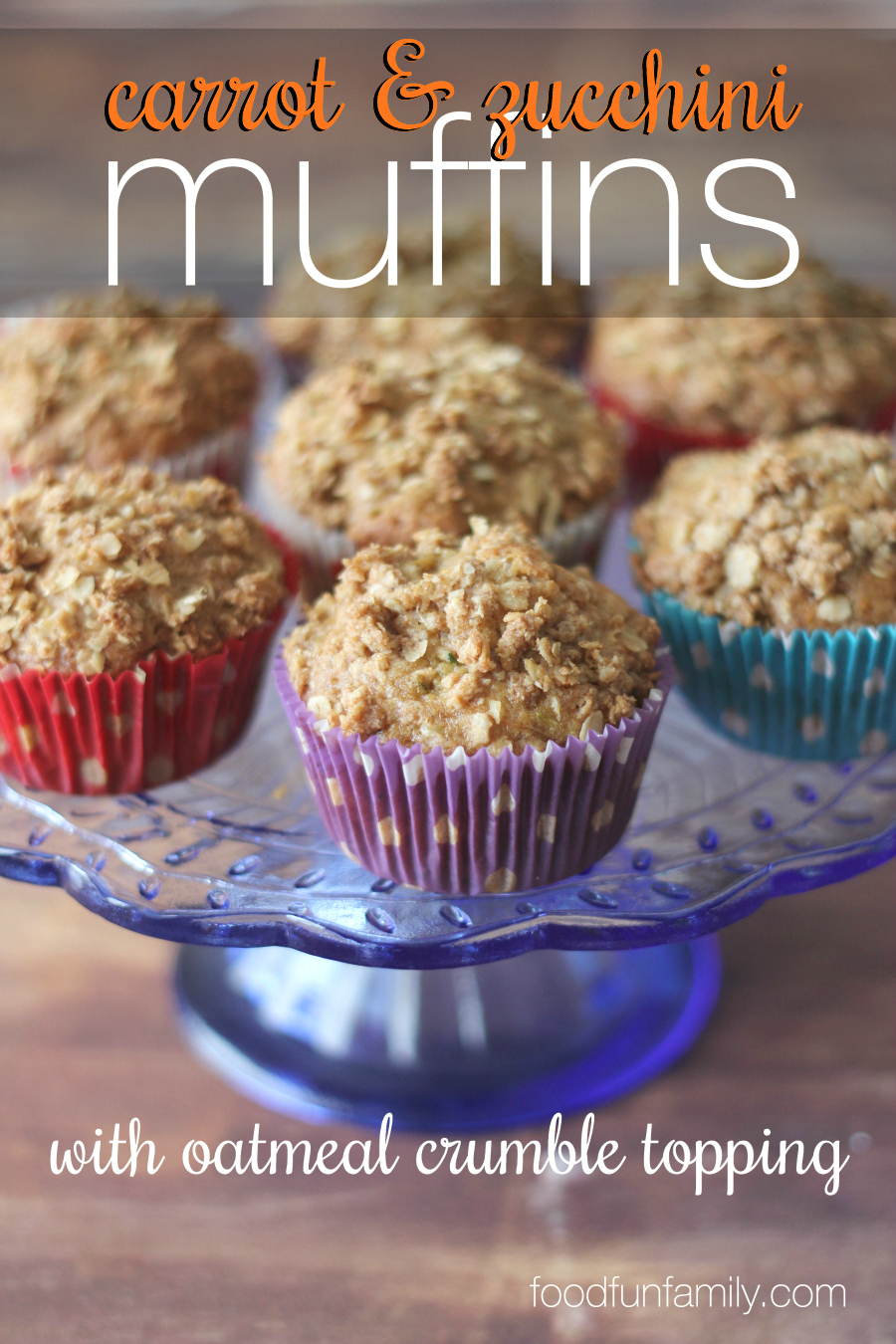 ⅔ cups vegetable oil
2 eggs
½ cup granulated sugar
½ cup brown sugar
1 teaspoon vanilla
½ teaspoon grated orange peel
2 cups flour
½ teaspoon baking soda
½ teaspoon baking powder
½ teaspoon salt
2 teaspoons cinnamon
½ teaspoon nutmeg
½ cup grated carrots
½ cup grated zucchini (patted dry with a paper towel)
Topping:
¼ cup sugar
½ cup oatmeal
½ teaspoon cinnamon
2 tablespoons butter, room temperature
Line a muffin tin with cupcake liners or spray with nonstick cooking spray. Preheat oven to 350°.
Mix vegetable oil, eggs, sugars, vanilla, and orange peel in a large mixing bowl.
Sift dry ingredients together in a separate bowl. Add dry ingredients to bowl with wet ingredients and mix thoroughly.
Gently fold in grated carrot and zucchini.
Add batter to muffin tin; fill cups about ⅔ full.
In a small bowl, mix topping ingredients. Crumb toppings work best if the butter is NOT melted. I like to "knead" the crumb mixture with my hands to get it nice and crumbly. Sprinkle generously on top of each of the filled muffin cups.
Bake at 350° for about 25 minutes, or until toothpick inserted in center comes out clean. Let cool on a wire rack.
Recipe by
Food Fun Family
at https://foodfunfamily.com/carrot-and-zucchini-muffins/