Greek-Style Gourmet Burgers in 15 Minutes #15MinuteSuppers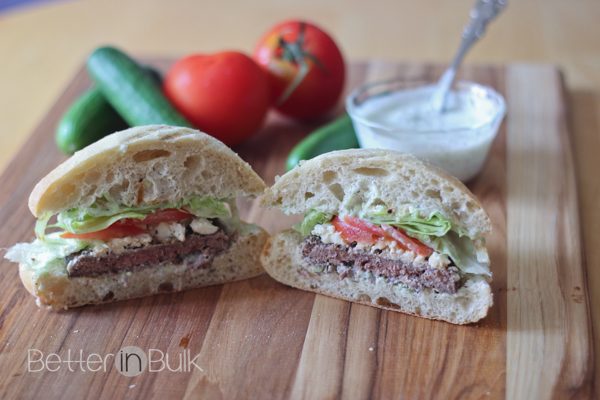 Burgers:
4 frozen burger patties
1 teaspoon ground cumin
2 teaspoons minced onion
2 teaspoons Oregano
2 teaspoons garlic
½ teaspoon pepper
Tzatziki sauce:
1 cup plain Greek yogurt
2 teaspoons lemon or lime juice
½ teaspoon garlic, chopped or dried
3 mini cucumbers, peeled
2 teaspoons dried dill
½ teaspoon salt
¼ teaspoon pepper
Toppings:
Ciabatta rolls
Feta cheese
Sliced tomatoes
Lettuce
Grilled/sauteed onions
Mix the spices in a small bowl. Generously sprinkle and rub the spices on both sides of each burger patty. Grill each burger until cooked through (timing will depend on your grilling method and heat. I use an indoor electric grill that cook both sides at once, so it's super fast).
When burgers cooking, make the tzatziki sauce by placing all sauce ingredients in a food processor and blending gently (it only takes a few pulses - you don't want the sauce to be soupy).
When burgers are cooked, sprinkle each patty with feta cheese and allow cheese to melt slightly.
Toast ciabatta rolls (I placed the rolls, cut-side-down, on the grill after taking the burgers off).
Generously spread each side of a sliced ciabatta roll with tzatziki sauce and then top with burger, tomatoes, lettuce, and anything else you might enjoy!
Recipe by
Food Fun Family
at https://foodfunfamily.com/greek-style-gourmet-burgers/