Pumpkin Pasties - A Harry Potter Recipe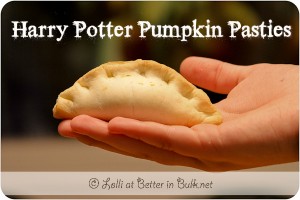 2 eggs, slightly beaten
¾ cup sugar
2 cups pumpkin (you can use a 1 lb can or puree the pumpkin yourself)
½ tsp salt
1 tsp cinnamon
½ tsp ginger
¼ tsp cloves
1⅔ cups evaporated milk (1 can)
½ tsp all spice
Pie crust (you can use a rolled refrigerated pie crust dough OR make your own crust. I prefer my own pie crust because it's particularly amazing. However, if you make your own crust, just remember to roll it really thin)
Mix all ingredients except for pie crust in a large bowl. Place filling into a casserole dish and bake at 425 for 15 minutes.
Leaving the baking dish in the oven, reduce the temperature to 350 and bake the filling for an additional 45 minutes.
Cool the baked filling.
Meanwhile, prepare and roll out pie crust dough. Cut pie crust into circles (I use a small bowl to cut the circles out)
Place a spoonful of the cooled filling in the center of each circle (the amount or filling that you put on the circles will vary depending on their size. Just make sure there is not so much filling that you can't press the crusts closed).
Pinch the edges closed  - you can crimp or make decorative edges at this point - and make 2-3 small slits in each mini pie.
Place on a baking sheet at bake at 425 for about 10-15 minutes, or until the crust is a light golden brown.
Recipe by
Food Fun Family
at https://foodfunfamily.com/pumpkin-pasties-a-harry-potter-recipe/