Crock Pot Pomegranate Chipotle Pulled Pork and Cole Slaw Recipe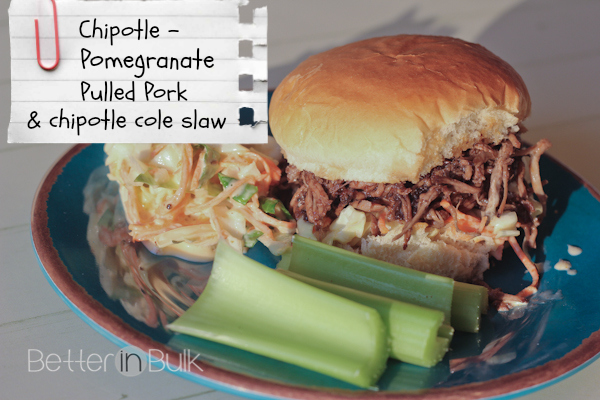 1 (5 to 7 pound) pork roast
2 (8 oz) bottles POM Wonderful pomegranate juice
¼ cup fresh lemon juice
¼ sugar
½ cup apple cider vinegar
4 tablespoons chipotle peppers, chopped very fine
16 oz. tomato sauce
1 T. yellow mustard
1 cup brown sugar
1 teaspoon salt
1 teaspoon onion powder
1 teaspoon garlic powder
fresh buns, nice and soft
Brown roast on all sides in a large pan.
In the mean time, combine pomegranate juice, lemon juice and sugar in a medium saucepan. Bring to a boil then quickly reduce to the heat to low. Simmer, stirring occasionally, until the mixture reduces to a syrup consistency that coats your spoon, about a half hour or so. Add the rest of the ingredients to saucepan, and continue to simmer until mixture thickens to a barbecue sauce consistency.
Place browned roast in the crock pot and pour the sauce over the meat. Cover and cook on low for 7-9 hours.
Remove the meat from the crock pot and place it on a large platter. Using two forks, shred the pork and place in a large bowl.
Return shredded meat to the crock pot and let it soak in the hot barbecue sauce.
Place meat on buns and top with slaw.
Chipotle Slaw This close slaw can be served on top of the pulled pork on a bun, on the side, or by itself. It's a fun slightly spicy version of a classic slaw. 4 cups fresh cole slaw mix or shredded cabbage and carrots, mixed ¾ - 1 cup mayonnaise ¼ cup honey juice from half a lemon ¼ - ½ cup finely chopped red onion 1 teaspoon finely chopped chipotle peppers Mix sauce ingredients and then toss with cole slaw mix.
Recipe by
Food Fun Family
at https://foodfunfamily.com/chipotle-pulled-pork-cole-slaw/